Summer cherry cake.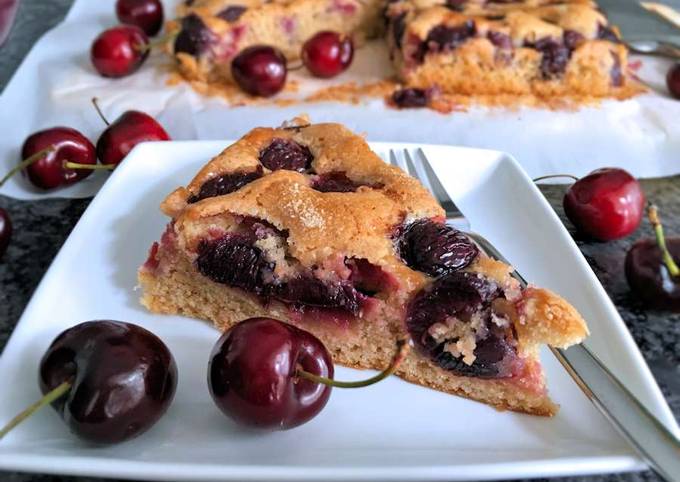 You can have Summer cherry cake using 8 ingredients and 8 steps. Here is how you cook that.
Ingredients of Summer cherry cake
Prepare 110 g (1/2 cup) of groundnut or rapeseed oil.
Prepare 200 g of (scant cup) sugar, plus 2 tbsp. for sprinkling.
It's 1 tsp of cinnamon.
It's 1/2 tsp of salt.
Prepare 250 g (2 cups) of plain flour.
You need 1/2 tsp of bicarb of soda.
You need 160 ml of or 170g (2/3 cup) buttermilk.
It's 250 g (1 1/2 cup) of cherries.
Summer cherry cake step by step
Butter and flour or line with parchment a square tin 20 x 20cm or similar. Preheat the oven to 170C/325F/gas 3..
Stone and halve the cherries..
Mix the oil and sugar in a bowl, add the cinnamon..
Add the flour and salt and the bicarb of soda and mix in – the mixture will resemble wet sand..
Add the buttermilk and mix into smooth batter..
Pour it into the prepared tin and cover with the cherry halves, cut side down..
Sprinkle with the 2 tbsp. of sugar and bake for 40 – 45 minutes until a skewer inserted in the middle of the cake comes out clean..
Cool completely in the tin..